Sama Jordan News – Jordan
Sama Jordan News is a news agency website that provides the latest local and global news about various categories.
Samajordan.com contains a website layout with a perfectly organized structure that is designed to easily navigate the content. Different posts and blogs are listed under their related topic.
Samajordan.com is characterized by high readability such that headlines are clear. Also, ad banners have been placed on the website without disturbing the website layout. 

Project Start Date: May, 2017
Project Launch Date: October, 2017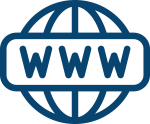 Grid-based news portal design